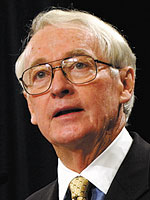 This evening, I was very saddened to learn of the passing of one of America's great political scientists, James Q. Wilson. It has been my honor to be associated with professor Wilson's best-selling
American Government: Institutions and Policies
over the last several editions.
The manner in which I was brought on board was indicative. Houghton Mifflin had actually asked me to write a critique of
American Government
. I guess I should have been in awe, many would have been, and rightly so. But I was raised in the "no respecter of persons" school and felt very strongly that the text was falling seriously behind the best empirical research in the discipline - some of it coming out of Professor Wilson's own generation.
So, I ruthlessly blasted away at the best-selling book of its kind, about 10 pages worth, single-spaced. I remember mailing it from my unknown community college campus, here in No-where-sville, USA, and thinking to myself, "Well, that is the last I will ever hear of that / from them." Professor Wilson's reaction, however, was to ask that Houghton Mifflin hire me, to create teacher's manuals, test banks and study guides! And, along the way, I was invited into the editing process, from one edition to the next.
I was especially honored / touched by the fact that, over the last couple of summers, Professor Wilson wrote me personally, for advise on chapters related to courts, civil rights and civil liberties, and he compensated me from his personal checking account. He also took above-average interest in my research on pardons, which was, of course, amazing in and of itself.
Professor Wilson always took my criticisms well, indeed, thanking me
profusely
, and usually rebuking himself out loud for overlooking this or that, or failing to add some critical detail. There are several passages I am proud of, when I look at his text book, because I am the reason they are there, or I am the reason that they are there in the present form. What a thrill!
Finally, I am honored by the fact that when the
Center for Inquiry
released
this criticism
of Professor Wilson's text. Houghton Mifflin hired
me
to write a rebuttal / response. Don't ask me why they chose
me
as the point person. But, they did. And they compensated me
handsomely
:-) It was a delicious exercise, which I enjoyed
way
too much.