Oscar Lopez Rivera
was born in San Sebastian, Puerto Rico and moved to Chicago when he was a teenager. In the 1960s he was drafted, served in Vietnam and earned a Bronze Star. He then became a "community activist, working on issues of poverty, discrimination, education and police brutality in Chicago's Puerto Rican neighborhoods." In 1981, however, he was arrested and sentenced to 55 years in federal prison for being a member of a clandestine force seeking independence for Puerto Rico.
Interestingly, Rivera was among the 16 Puerto Rican nationalists offered conditional commutation of sentence by Bill Clinton in 1999. But the 69-year old Rivera rejected the conditions of the offer and, consequently, remains in custody. Today, rallies are being held, calling on President Obama to pardon Rivera. Good luck with
that
!
Indeed, a month of "activities" are scheduled "around the country" to build support for a presidential pardon. Many are wearing T-shirts with "Free Oscar" on the back and prison bars on the front. Some say Rivera's "struggle and sacrifice" make him "an inspirational figure, a source of national pride whom some compare to former South African President Nelson Mandela."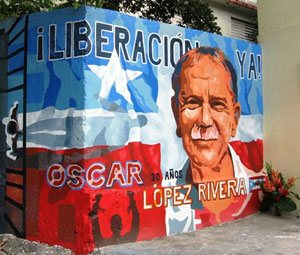 It is also reported that Rivera's release "enjoys wide support in Puerto Rico, not only from pro-independence forces, but from the Senate and House, the Bar Association, former governors, unions, religious denominations, and community activists, among other sectors." And, Lopez is said to have "growing support among Puerto Rican and other Latino communities in the U.S."
At his first federal parole hearing in 2011, Lopez was denied the right to call witnesses and to have legal observers and family members present, while the government called 11 witnesses who sought to implicate Lopez in acts in which he had no involvement. His next parole hearing will not be until 2027, when he will be 84. See story
here
.